I have decided to use my Gallery at Imagekind as the preferred gallery to feature my artwork that is available as posters and framed prints. The ease of set-up and the superior papers available are a couple of the reasons why I made this choice.
Now when you click the "Print Gallery" tab above, you will be taken right there. I will be working on creating a more integrated interface between this site and my Imagekind gallery soon.
Recall Wisconsin Governor-Elect Scott Walker before we lose more jobs.
I've been debating about doing it for a while now, and finally did it. I made the bumper sticker. $3.95 each…less if you buy in bulk.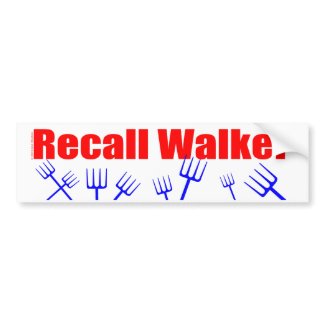 Recall Walker
by
Ann Stretton
Buy This Sticker!
This one I give credit to Stan for telling me to make the pitchforks blue.
I should've done this a long time ago! I am finally organizing a site of my digital art that can be purchased in a physical form, like posters, prints, cards, and more. Zazzle has a way of doing an automatic gallery, but I can't seem to get it to work on my site. Just as well, it's not that customizable for my tastes. So I have gone about it a different way, My Way, as a bunch of famous dead music guys said.
This will be a work in progress…lots of items to add!